Stock Market Closing, 11th May 2023: The Indian stock market closed flat on the fourth trading day of the week. Despite opening higher in the Indian stock market amid strong global cues, the market ended marginally lower, putting brakes on the rally. The market closed with losses due to profit booking. Banking, FMCG stocks saw strong gains, while midcap stocks gained but the market closed in the red. Investor wealth increased to Rs 278.06 lakh crore from Rs 277.10 lakh crore on Wednesday, ie, despite the fall in the stock market, the wealth of investors increased.
Today the Sensex closed at 61904.52, down 35.68 points (0.06 per cent) and the Nifty closed at 18297 points, down 18.1 points (0.10 per cent). On Wednesday, the Sensex closed up 178.87 points at 61940.20 points and the Nifty closed up 49.15 points at 18315.10 points. On Tuesday, the Nifty closed down 2.92 points at 61761.33 points and the Nifty closed up 1.55 points at 18265.95 points. On Monday, the Sensex closed at 61,764.25 points, up 709.96 points.
sector update
In today's business, there was buying in the shares of Banking, Auto, IT, FMCG, Energy, Consumer Durables sector. While the shares of Healthcare, Infra, Metal, Pharma sectors closed down. Buying in equities also led to gains in the Midcap and Smallcap indices. Sensex gained in 22 out of 30 and declined in 8. Of the 50 Nifty stocks, 26 ended with gains and 24 with losses.

Fluctuating Shares
In today's trade, Asian Paints closed 3.22 per cent, HUL 2.76 per cent, NTPC 1.30 per cent, IndusInd Bank 1.26 per cent, UltraTech Cement 1.24 per cent, Maruti Suzuki 0.93 per cent, Sun Pharma 0.80 per cent. While Larsen closed with a decline of 5.29 per cent, ITC 0.94 per cent, Bharti Airtel 0.86 per cent, Reliance 0.72 per cent, Infosys 0.55 per cent, Tata Steel 0.46 per cent.
increase in investor wealth
Although the index closed down, investor wealth increased. At the close of the market today, the market capitalization of the companies listed on BSE stood at Rs. 278.06 lakh crore, which on Wednesday increased to Rs. 277.10 lakh crores. Investor wealth increased by Rs 100 crore in today's session. There has been a jump of 96,000 crores.
How did today start?
As soon as the stock market opened this morning, the 30-share index Sensex of BSE crossed the level of 62,150 points with a gain of 200 points. The Nifty was trading close to 18,360 after gaining nearly 45 points.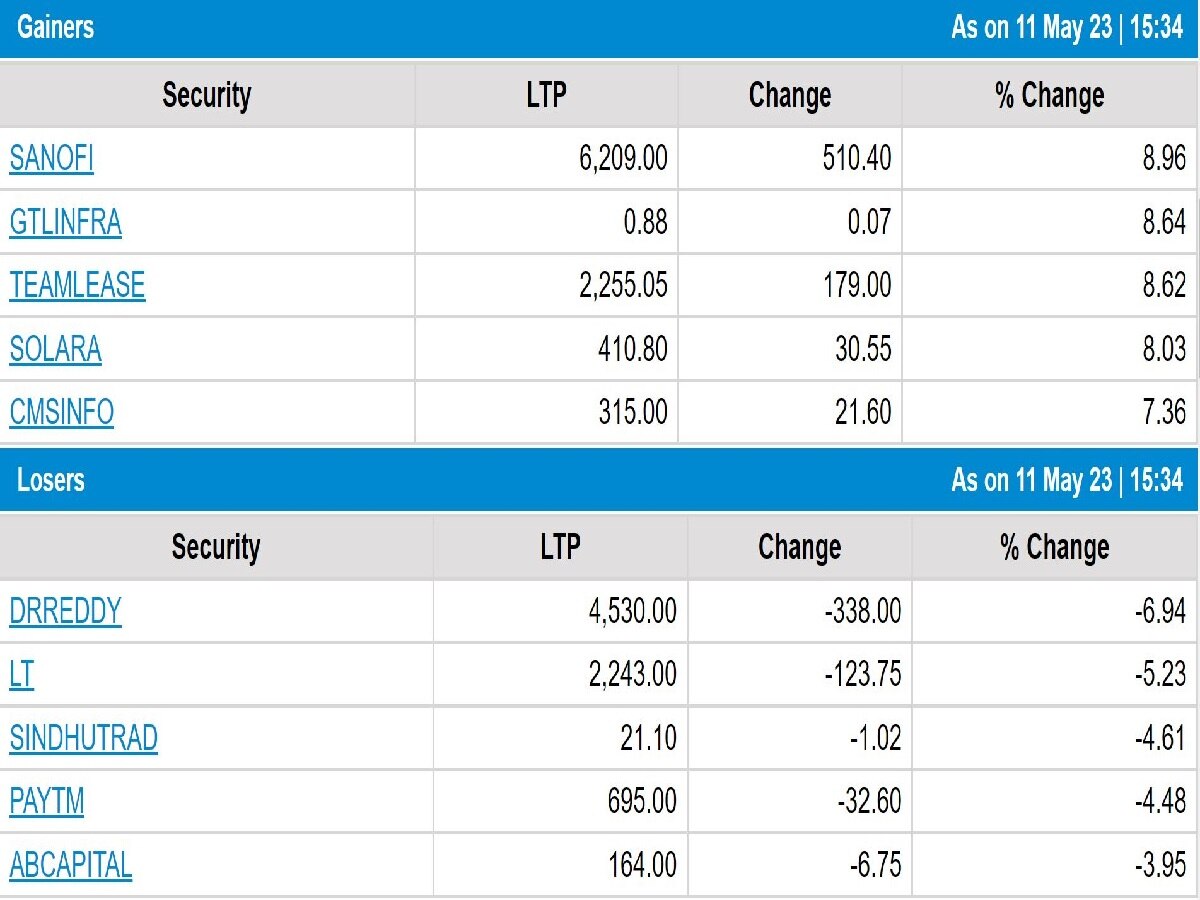 | | | | | |
| --- | --- | --- | --- | --- |
| index name | closure level | high level | low level | percentage change |
| BSE Sensex | 61,962.05 | 62,168.22 | 61,823.07 | 0.04% |
| BSE SmallCap | 29,631.26 | 29,695.21 | 29,511.89 | 0.65% |
| India Wix | 13.22 | 13.74 | 12.82 | 1.01% |
| Nifty Midcap 100 | 32,601.30 | 32,694.20 | 32,541.05 | 0.30% |
| Nifty Smallcap 100 | 9,881.10 | 9,914.95 | 9,864.75 | 0.53% |
| Nifty Smallcap 50 | 4,492.40 | 4,514.70 | 4,484.15 | 0.46% |
| Nifty 100 | 18,174.25 | 18,242.35 | 18,146.65 | 0.02% |
| nifty 200 | 9,558.85 | 9,590.35 | 9,544.40 | 0.06% |
| nifty 50 | 18,297.00 | 18,389.70 | 18,270.40 | -0.10% |