Rupee vs Dollar: The value of Indian currency Rupee is continuously falling. On Monday, the value of rupee fell once again in the interbank currency market. With this the Indian currency fell to its lifetime low. This decline has come at a time when the local stock market also declined in Monday's trading.
According to interbank currency market data, the rupee weakened by 7 paise in Monday's trade. With this, the Indian currency fell to Rs 83.35 against the dollar. That means now the price of one dollar has become Rs 83.35. A day earlier i.e. last week on Friday, the rupee was at 83.27 against the dollar. Thus, the price declined by 0.08 per cent in Monday's trade.
lowest level in history
Although the fall in today's trading was minor, the value of the Indian currency fell to an all-time low in history. Earlier on November 10, the rupee had closed at this level. The rupee fell further during trading on November 10. At one point in the day's trading, the price was at a low of 83.42.
This is why there is pressure on the rupee
The rise in dollar is not responsible for this fall in rupee. The dollar index, which measures the strength of the US dollar against six major currencies, was trading 0.42 per cent lower at 103.48 today. This is one of the lowest levels for the dollar index since September. The main reason for the fall in the value of rupee at present is crude oil. Apart from this, demand for dollars from government banks is also responsible for the weakness of the rupee.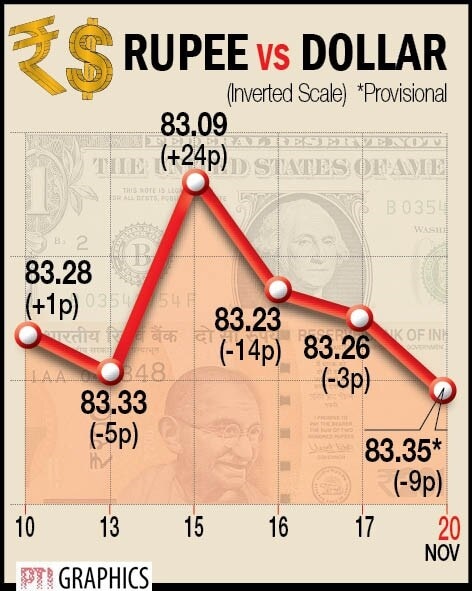 The stock market was also affected
Other factors include a decline in domestic stock markets and selling by foreign investors. Today on Monday, the local stock market has seen a decline for the second consecutive day. Today Sensex closed down by 139.58 points and Nifty closed down by around 37 points. Earlier on Friday, Sensex had fallen by 187.75 points and Nifty by 33.40 points.