Seeing Rohit Sharma almost in tears following the loss in the World Cup 2023 final, former Pakistan women's skipper Javeria Khan penned a tweet that got the Indian fans emotional and her graceful support to the India skipper got her praises from Indian fans.
Rohit Sharma's seemingly indomitable Indian team suffered their first and only loss in the tournament – it came in the biggest game of all: the World Cup final, with serial ICC trophy winners Australia clinching their 6th ODI World Cup title, silencing the over 90,000 Indian-strong crowd at the Narendra Modi Stadium in Ahmedabad.
After the loss, Rohit Sharma was almost in tears but held himself while shaking hands. It was reported that Rohit burst into tears in the dressing room and "cried like a baby" later on, but soon came out to face the media in the post-match presentation ceremony.
Rohit Sharma was catalyst in bringing India to the finals: Javeria Khan
Veteran Pakistan women's batter, Javeria Khan, who has featured in over 200 international matches for her country showed empathy toward the India skipper seeing pictures and videos of Rohit shedding a tear. Javeria also hailed Rohit's ultra-attacking batting that set the tone for the rest of the Indian batters throughout the tournament.
Javeria alluded to Rohit's jolly and humorous character, adding that it was not nice seeing him in tears.
Javeria Khan tweeted: "Being Captain is a tough ask. You breakdown. Then suddenly you remeber you have to play another role and pretend to be all good in the presentations 😊
Rohit Sharma's game was catalyst in bringing India to the finals. He makes everyone laugh and it wasn't nice seeing him cry."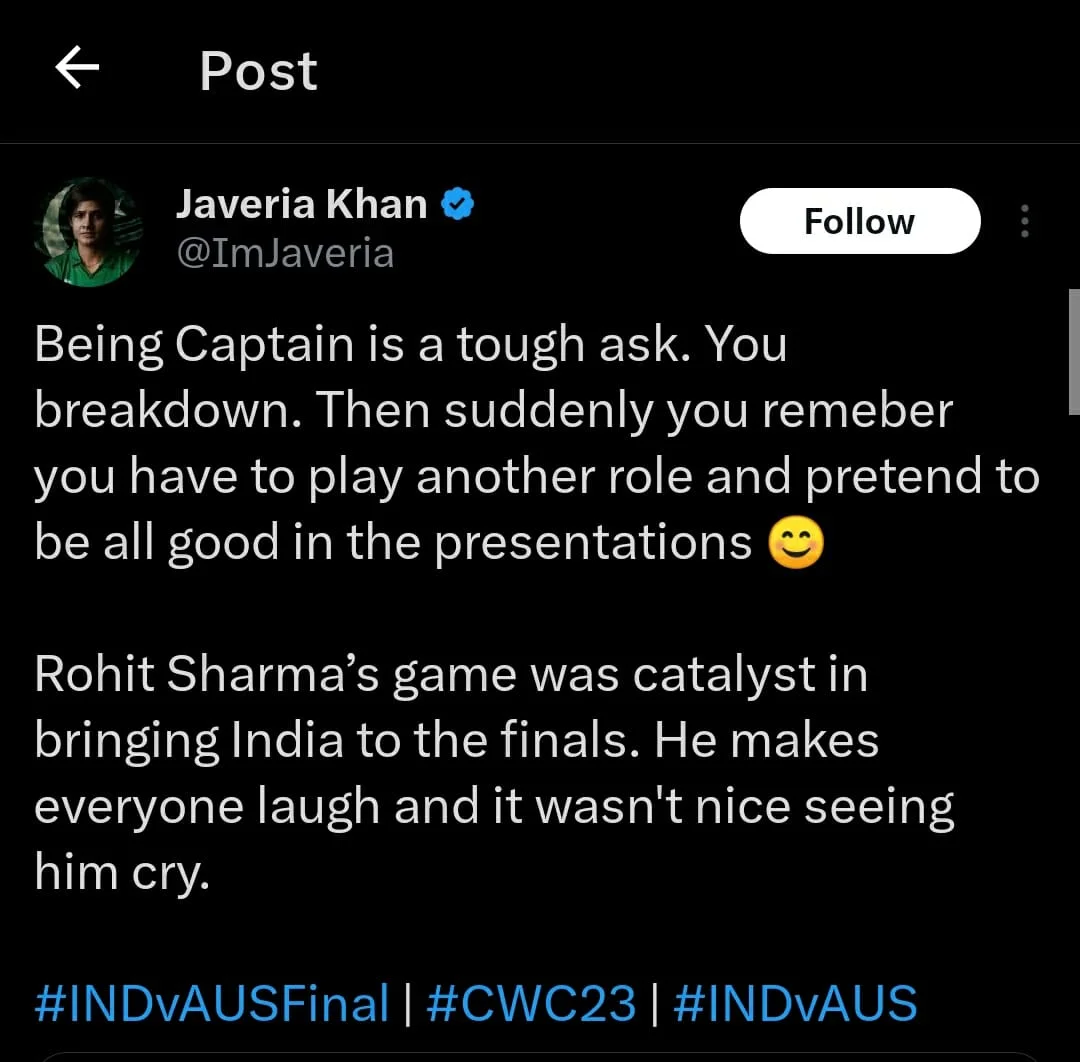 Rohit finished as the second-highest run-getter in the tournament smashing 597 runs at a magnificent strike rate of 125. Rohit even gave a cracking start in the final with 47 runs in 31 balls but India's innings couldn't gain momentum after his dismissal.
Rahul Dravid praised the skipper: "Rohit has been an exceptional leader. He has got the dressing room, always available for any conversations. He has given a lot of time & energy in this campaign. Even his batting, he has always set the tone for us. He wanted to lead by example."