Indian cricket team opener KL Rahul believes that a big and lucrative contract can also become a reason for great distraction for the young cricketers of the country. KL Rahul is a well-known name in Indian cricket and he has also helped the stranded Indian team many times. He has also seen a lot in his cricket career. Lokesh Rahul, who has gone through all these ups and downs, has a lot of good and better lessons to give to young cricketers.
KL Rahul's message to young cricketers
Let us tell you that during IPL 2023, KL Rahul got hurt. After this, during a recent conversation on 'The Ranveer Show', Lokesh Rahul said that,
"Getting a lot of money too soon, without proper guidance, can disorient a young player. I didn't get a lot of money quickly. Everything has happened step by step in my career.
KL Rahul further said that,
"In this case, I started slowly and played cricket for many years even to get a basic and normal contract. I got my first big contract in the year 2018, when I was probably 25 or 26 years old. I've had my ups and downs in my career since then, and all those things teach you a lot."
Your mind more than ever – Rahul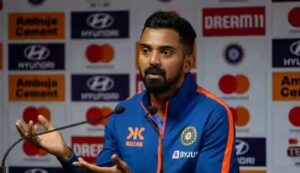 KL Rahul also told that this makes your mind more balanced than before. Even in the beginning, my mind was a bit jittery at the sight of my very first huge cheque, but I realized it very quickly and calmed myself down at the same time. You grow up and move forward in front of the world. Your every moment, every action and every word out of your mouth is being judged, and so you're always under pressure. You often feel it. No one needs to tell you this.