Kolkata Knight Riders (KKR) captain Nitish Rana is not happy with the pitches at his home ground Eden Gardens and has even said that 'except KKR' in the Indian Premier League, every team is enjoying home advantage. . Please tell that he had said this in the last match itself. And historically, the Kolkata Knight Riders team has been heavily dependent on slow bowlers receiving ample support from the pitch at Eden Gardens. Their champion sides of 2012 and 2014 had a significant spin component.
What did the pitch curator say?
According to media reports, Eden Gardens pitch curator Sujan Mukherjee told The Indian Express that they are not bound to make wickets as per the instructions of the home team. He further said that IPL is not played on the basis of home advantage and the captain can say whatever he wants. His target was directly towards Captain Nitish Rana.
Eden Gardens pitch curator Sujan Mukherjee further said that is there a clause in the IPL where it is written that pitches have to be constructed as per the wishes of the IPL franchises? It is being told that the track at Eden Gardens is now considered flat and full of runs in IPL and domestic cricket, it helps fast bowlers with its green colour.
There are many problems here too – Mukherjee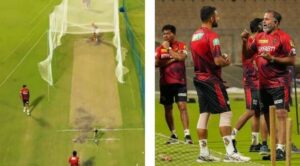 Significantly, according to pitch curator Sujan Mukherjee, changing the appearance of the surface is not conducive for a two-month tournament like the IPL. He said about this that there are many problems here which I cannot talk about and it is not easy for KKR to change the pitch. Look at other IPL teams like RCB and DC; They don't talk or complain about home advantage. They play with what they are given. However, the KKR management is miffed with this attitude. Some team officials told The Indian Express that they would prefer to play on a slower surface.